Darkscene - Darkscene Verlosung: Crowbar@Weekender.
Crowbar

lassen mit ihren schwergewichtigen Sludge-Doom-Walzen die Hallen des Weekender Club bröckeln. Lasst euch diese, vielleicht letzte Metal Show im coolsten Club Westösterreichs nicht entgehen...wir verlosen Tickets...

Crowbar

(USA)

Silius

(AT)

Sun, 14.05.2017, 19:00 Uhr live @ Weekender

KARTENVORVERKAUF: (19,- zzgl. Geb.) erhältlich online über NTRY.at und oeticket.com sowie bei allen oeticket Vorverkaufsstellen.

ABENDKASSA: 25,-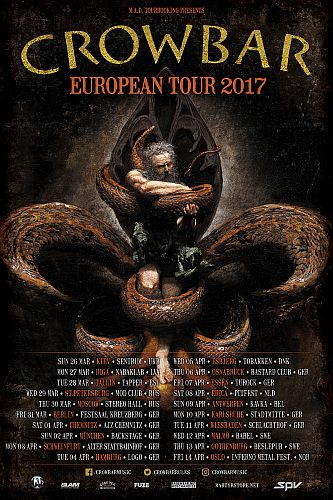 Crowbar

Seit einem 1/4 Jahrhundert versorgen uns

Crowbar

mit tonnenschweren Riffs und wir freuen uns, das Brecheisen aus New Orleans auf unserer Bühne begrüssen zu dürfen! Ein Abend, den sich kein Sludge-Fan entgehen lassen sollte!

"For nearly three decades, the name Crowbar has been synonymous with HEAVY. Since rising ominously from the swamplands of New Orleans in 1990, they've been hailed internationally as one of the world's foremost purveyors of crushing, melodic sludge. Crowbar's eleventh and latest album, The Serpent Only Lies, is both an affirmation of the band's staying power and a nod to their legacy. "To me, it's a fresh-sounding version of old-school Crowbar," says vocalist, guitarist and mastermind Kirk Windstein. "I intentionally went back and listened to a lot of old Crowbar stuff, like the self-titled and Broken Glass albums, to get a feel for what my mindset was 20-plus years ago. I also went back and listened to the bands that influenced Crowbar in the beginning, like Trouble, Saint Vitus, Melvins, and the first Type O Negative record. So it was kinda me doing my homework."

Crowbar @Facebook Support:

Silius

Silius

sind eine Österreichische Thrash Metal Band, die im Herbst 2013 gegründet wurde. Die fünf Mitglieder Ralph (Drums), Haui (Lead Guitar), Mex (Rhythm Guitar), Martin (Bass) und Matthias (Vocals) wandern unüberhörbar in den Spuren ihrer Helden Pantera, Exodus, Black Sabbath Metallica. uvm.

Silius @Facebook VERLOSUNG:



Darkscene

verlost Tickets für diese coole Show. Wer ein Ticket gewinnen will, schickt einfach eine E-mail mit dem Betreff "CROWBAR" an folgende email Adresse:

gewinnspiel@darkscene.at

Im E-mail muss der Name klar ersichtlich sein.
Aus allen Einsendungen werden Gewinner gelost, deren Namen auf der Gästeliste der Show stehen.
Der Rechtsweg ist ausgeschlossen.

Die Leitung zum Gewinnspiel ist ab Montag, den 8. Mai um 10:00 geöffnet.
Einsendeschluss ist Freitag, der 12. Mai 2017 um 12:00!

Die Gewinner werden per E-mail verständigt.